Feel So Tasteful Tuscan Style Interior Design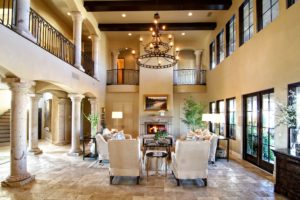 Tuscan design is a delightful combination of beautiful natural materials in relaxed and comforting spaces create warm and inviting homes with sumptuous finishes and the addition of quality craftsmanship brings a luxurious touch to the old world charm of a Tuscan interior.
Metalwork is supposed to be a dominating position of the whole design.
Large chandeliers, lanterns and wall lights are often made in iron.
Even in modern Tuscan paradigm, combining ironmongery detail on window and doors frames with white washed walls and more contemporary furniture keeps the property feeling fresh whilst retaining a characterful Tuscan charm.
Weathered wooden furnishings are also common with the nature of the unique grains and varying undertones providing a depth and richness that indulge the luxurious nature of Tuscan style. Interrelated with key pieces of furniture, a mix of textures and finishes creates an informal style that is both sophisticated and eclectic.
Integration of modern furnishings leads to comfortable and relaxed ambience. Meanwhile ornate hand carved pieces provide a transition into a more traditional rustic Italian quality.
Typically, the exterior finishes are infiltrating into the home
This seamless transition between the outdoors and in creates an al fresco air about the interior. Traditional French doors create wide openings and in combination with contemporary houses sliding window partitions expand the space.
Kitchens and dining areas often extend onto outdoor terraces, perfect for gathering family and friends for warm summer evenings.
Natural stone walls and floors are perfectly complemented with gentle earthy color palettes.
This interior encompasses an earthy terracotta floor and vibrant yellows to add intrigue to the raw palette. Fabrics tend to be rich and luxurious with layers of tones and textures giving a more opulent feel to the earthy surroundings.
One thing to be stressed is that we do not widely use sent as a material for the floor covering.
Roger Rendering provides Tuscan styled designs drawn upon the romance of Italy with intense raw textures, inspired by and integrating the beautiful natural surroundings and sun-kissed, earthy accents bringing the home to life.
From the perspective of material usage, Roger Rendering is rather unique company.
Because we provide designing and rendering, applying generally glass and marble instead of heavy and expensive iron and stones.
Such a substitution is rather beneficial due to the flexibility of design decisions and installation.
In the same time final finishing of the surfaces of both, glass and marble, gives to the whole interior an air of exclusive classical Tuscan Style.
The variety of shapes, shades and combinations – that are astonishing advantages of our approach to the creation of Tuscan Style.
Creativeness of our masters is impressive. You will enjoy luxury and key design pieces that complement the rustic charm of a Tuscan interior.